Apparemment, au début 1942, tandis que les USA venaient d'entrer en guerre, le banjoiste
Eddie Peabody
mena une campagne de lobbying pour la
défense du banjo et sa réinsertion au sein des orchestres
. Le "roi du banjo" estimait que les chefs méprisaient cet instrument populaire. Rejoint par Ashton Stevens, le critique dramatique (et banjoiste amateur qui avait enseigné son art à Randolph Hearst) et le fabricant de cordes Milton Wolf, Peabody militait contre ceux qui cantonnaient le banjo à l'époque des plantations.
Interrogé sur le sujet, Cab Calloway répondit avec une ironie certaine :
"Aujourd'hui, nous nous concentrons sur la qualité du ton et si certains croient au boycott du banjo, c'est simplement dû aux années d'expérience avec cet instrument qui n'a jamais été capable de retenir ses notes grinçantes, incapable d'égaler la douceur de son compère supérieur - la guitare."
Cab ajouta même qu'un jour, un de ses musiciens essaya d'acheter un banjo d'occasion dans un magasin. Son vendeur lui demanda s'il n'avait pas perdu la tête !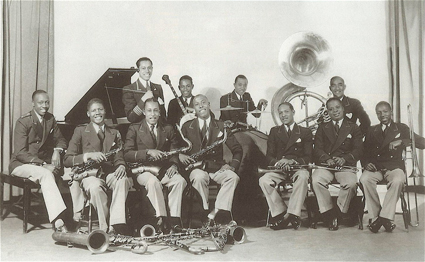 Cab and his Missourians, en 1930. A ses côtés, Morris 'Fruit' White au banjo.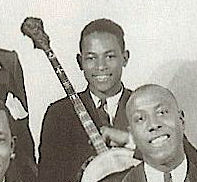 Les amateurs apprécieront le deuxième guitariste qui œuvrait dans l'orchestre de Cab à l'époque de sa déclaration :
Danny Barker
. Originaire de la Nouvelle-Orléans, il consacra la fin de sa vie à défendre les racines de la musique de la Louisiane... avec au premier rang, le banjo.
---
Dans le même esprit que la déclaration de Cab, lisez donc ce livre dont le titre à lui seul vaut le détour :
The banjo players must die
, de Josef Assad
.