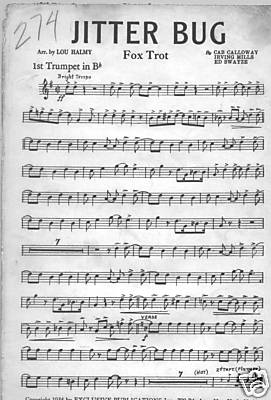 Enregistré le 22 janvier 1934 à New York, le titre Jitter Bug est une oeuvre commune d'Edwin Swayzee (trompettiste depuis 1932 avec Cab) et de Cab Calloway.
Les avis sont multiples sur l'origine du mot
Jitter Bug
. Il faut dire qu'à l'époque où est sorti le disque de Cab, il connut un tel succès que beaucoup voulurent s'en arroger l'origine, Cab lepremier. En fait, le Jitterbug était une danse pratiquée au Savoy Ballroom de New York dès 1926 (au moment de son ouverture). Ses danseurs furent célèbres plus tard sous le nom des Lindy Hoppers (que l'on voit avec bonheur dans
A Day At the Races
et
Hellzapoppin
'). Comme on était à l'époque de la Prohibition et que les mouvements hystériques des danseurs faisaient penser à des ivrognes, on appela cette danse jitter-bug en référence à la jitter-sauce (l'alcool frelaté).
Selon les historiens, ce serait
Harry White,
trombone dans l'orchestre de Cab Calloway, qui aurait inventé ce mot.
Edwin Swayzee
aurait créé cette chanson dans le but de se moquer des tendances de ses compagnons de pupitres à abuser de l'alcool.

Dès la sortie du disque au printemps 1934, la danse, le mot et la chanson furent connues d'un très large public.

Un club fermé... ouvert aux ivrognes !
Dans un article de 1934 paru dans l'
Afro American
de Baltimore, il est d'ailleurs raconté que Cab Calloway avait été nommé président d'honneur de la compagnie fraternelle Jitterbug, créée par des étudiants de l'université blanche de Columbia en 1932. Pour devenir membre de cette très spéciale association, il fallait pouvoir prononcer et épeler correctement le mot
"Palsaddictinsomnidipsomaniac"
après avoir absorbé 6 verres d'alcool fort (alcool frelatté appelé "jitter-sauce"). Une belle leçon d'élocution par le roi du scat !
Le
Jitterbug
de Fred Waller (24 mai 1935)
Le succès du disque fut tel que
de nombreux orchestres de jazz
se mirent à eux aussi jouer des titres avec l'expression
Jitter bug
dedans. Mais pour marquer définitivement l'expression de son sceau, Cab Calloway tourna un court-métrage au début 1935 intitulé "
Cab Calloway's Jitterbug Party"
. On entend d'ailleurs le titre de Swayzee (dont il semblerait que ce soit la
dernière apparition à l'écran
puisqu'il mourut le 31 janvier 1935 - c'est le trompettiste du milieu) dans une version tronquée et avec un solo de Doc Cheatham.
---
Pour ceux qui souhaitent faire une étude de texte complète, voici les paroles de la chanson et la chanson à écouter (dans une prise alternative moins courante) :
If you'd like to be a jitter bug,
First thing you must do is get a jug,
Put whiskey, wine and gin within,
And shake it all up and then begin.
Grab a cup and start to toss,
You are drinking jitter sauce!
Don't you worry, you just mug,
And then you'll be a jitter bug!
Hear this fat boy blowing his horn*,
He's been a bug since the day he was born,
His favorite jitter sauce is rye,
I swear, he'll drink it 'til the day he die!
Toot your whistle and ring your bell,
Oh, butchie-wutchie, time will tell,
Don't you worry, you just mug,
You'll always be a jitter bug!
*Sans doute Edwin Swayzee, l'auteur de la musique ou encore Lammar Wright autre trompettiste bien-vivant. Revanche amicale de Cab en tout cas !
These four boys playing saxophone**,
Order jitter sauce by phone,
Central, give me Harlem 4-9-4,
I think these bugs could drink some more,
They drink sauce from morn to night
And never stop until they're tight,
Don't you worry, they just mug,
They're poor little jitter bugs!
**Eddie Barefield, Arvelle Harris, Andrew Brown, Walter Foots Thomas
.
Now, here's old Father***, a wicked old man,
Drinks more sauce than the other bugs can,
He drinks jitter sauce every morn,
That's why jitter sauce was born,
See him shake with his trombone,
He just can't leave that sauce alone,
Get along, Father, you just mug,
You'll always be a jitter bug!
****Harry White, trombone, qui fut à l'origine du mot Jitterbug. Son surnom se retrouve dans la chanson écrite elle aussi par Swayzee,
Father's Got His Glasses On.
There's Rip Van***** with his eyes a-twinkle,
We named him after Rip Van Winkle,
Like Rip, he'd sleep for twenty years
If he could get his fill of beer,
Rip drinks his sauce, gets on the stand,
Soon he forgets that he's in the band,
Don't awaken him, just let him mug;
He'll always be a jitter bug.
*****Eddie Barefield, saxophone. L'un des musiciens qui a le plus joué avec Cab tout au long de sa carrière, jusque très tardivement (1977)
---
Pour en savoir plus sur les surnoms des musiciens de l'orchestre de Cab, rendez-vous sur l'article que nous avons consacré à ce sujet.