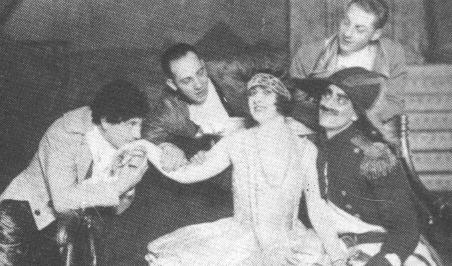 Les Marx Brothers et Margaret Dumont dans une scène de
Schweinerei.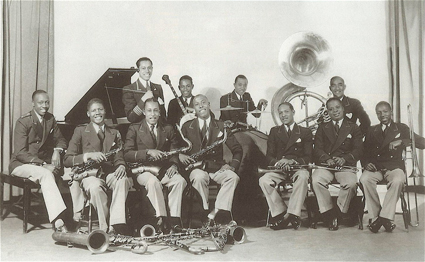 Cab Calloway and his Missourians
Quelle affiche, n'est-ce pas ? Eh bien, vous n'avez pas rêvé ! Alors qu'il n'en était qu'à ses débuts sur la scène new-yorkaise, Cab se retrouva pendant une semaine à l'affiche d'un spectacle au
Palace
, sur la 47e rue à Manhattan.
"The Schweinerei"
était le titre de la pièce que jouaient les 4 Marx Brothers et l'incontournable Margaret Dumont.
Georgie Price, jeune vedette du vaudeville, la soprano Rose Perfect et des ventriloques étaient également à l'affiche. Durant une semaine, trois shows complets vont se succéder chaque soir avec un programme chargé.
Cab y est annoncé ainsi :
"Radio Favorites and Victor Records Artists
CAB CALLOWAY & HIS MISSOURIANS
direct from The Cotton Club
With Blanche Calloway
A colourful dish of music, song and dance served hot"
Le
New York Times
du 13 octobre 1930 fit d'ailleurs une excellente critique de la soirée, surtout subjugué par le talent hilarant des frères Marx.
De Cab Calloway, il ne retint pas la présence de sa soeur, pourtant annoncée sur les programmes (il semble d'ailleurs qu'assez régulièrement le frère et la soeur se produisent ensemble sur scène, Cab étant déjà le nom qui vendait le plus des 2 !) Non, ce sont ses
"ha-tcha-tcha boys from Harlem"
et ses
"horn blowers"
. On leur reconnaît un
Tiger Rag
excellent avec un bel ensemble de saxophones et un
I'm A Glutton Of Love
tout aussi mémorable... Rien que le titre nous fait regretter qu'il ne soit jamais passé à la postérité !