Tous les amateurs de Cab Calloway connaissent bien Chu BERRY (1908-1941), saxophoniste ténor au talent prometteur, interrompu par un accident de voiture mortel en octobre 1941.
Celui qui a inspiré Parker, Coltrane, celui que Ben Webster ou Coleman Hawkins redoutaient et admiraient à la fois, va avoir les honneurs d'un coffret intégrale chez MOSAIC Records.

203 enregistrements en 7 CD
Les sessions qu'il a menées, les enregistrements remarquables dans lesquels il n'était que sideman constituent un trésor patiemment assemblé par cet éditeur formidable.
Vous y retrouverez, entre 1933 et 1941, Teddy Wilson, Bessie Smith (dans son ultime session), Roy Eldridge (dans sa toute première session), Fletcher Henderson (l'orchestre dans lequel Chu Berry était juste avant d'intégrer celui de Cab), Gene Krupa, Benny Goodman, Billie Holiday, Lionel Hampton, Benny Carter...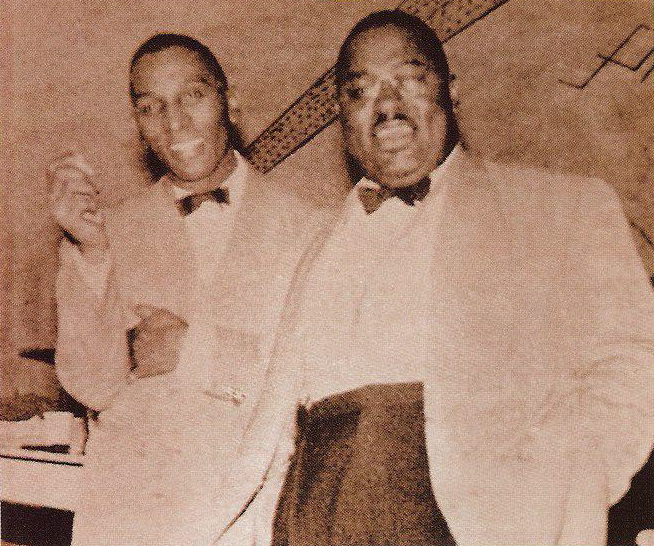 Chu Berry and Cozy Cole backstage.
Parmi les perles rares, on dénombre pas moins de
12 prises alternatives
, jamais éditéées dans aucun format (notamment parmi les sessions avec Cab Calloway).
Comme l'indique insidieusement le communiqué de presse, pour accumuler toutes les autres merveilles présentées dans ce coffret, il faut disposer de :
Plusieurs CD parus chez Chronnogical Classics, parmi lesquels Henderson, Manone, Calloway, Wilson,

"Study in Frustration"

paru chez Sony sur Fletcher Henderson,
Plusieurs RCA parus en France
Des coffrets de Billie Holiday, Bessie Smith et Mildred Bailey
Et plusieurs CDs Sony épars...
Bref, vous l'aurez compris : ce coffret, il vous le faut ! D'autant qu'il est apparemment accompagné d'un livret avec
des photos rares de Chu Berry
, ainsi que d'
un essai de Loren Schoenberg
et d'une discographie corrigeant les différentes erreurs accumulées au cours des diverses rééditions.
On y retrouve en effet le fameux titre "Penguin Swing" enregistré à New York le 10 février 1938. Apparemment, la "rumeur" annonçait ce titre comme celui d'un acétate non identifié chez Vocalion... D'après Mosaic, il s'agirait en fait d'un titre enregistré soit pour la radio, soit pour un film. Lequel ?...
En conclusion, rappelez-vous que
Charlie Parker appela son premier fils Berry en hommage à Chu
! et que John Coltrane et bien d'autres saxophonistes boppers ont su tirer de ce phénomène une puissante veine musicale.

Classic Chu BERRY Columbia and Victor Sessions (#236) - 119$ (+30$ de port).
Edition limitée à 5000 exemplaires.
Sortie mi-mars 2007.