George E. LEE (1896-1958)
Le chanteur, pianiste et chef d'orchestre George E. LEE est surtout connu… grâce à sa petite sœur, Julia. Pourtant, à la fin des années 1920, son orchestre était le principal rival de celui de Bennie MOTEN (on dit même qu'à la suite d'une bataille d'orchestres qui vit la victoire de Lee, Moten décida d'engager Basie et Durham pour remonter la pente).
Un premier enregistrement en 1927 puis une série de 6 titres pour Brunswick en 1929 furent pourtant le point culminant de la courte carrière discographique de George E. Lee. Durant quelques années, l'orchestre de George E. Lee écume les salles du Kansas. Il calque peu à peu son chant sur celui de Cab Calloway, au point que les publicités l'appellent le « Cab Calloway du Middle West ».

Suite au départ de plusieurs de ses musiciens, George E. Lee rejoignit l'orchestre de Bennie Moten en 1933.
À la mort de Moten, il remonta son propre orchestre qui ne dura qu'une année. Dans les années 40, il s'installa dans le Michigan, où il géra notamment un night-club pour terminer sa vie à San Diego, achevant sa carrière au moment où sa sœur Julia devint célèbre.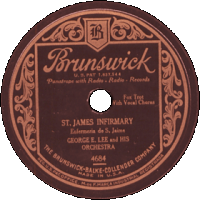 Saint James Infirmary Blues (1929)
Autre anecdote rapprochant George E. Lee de Cab, l'enregistrement en novembre 1929 de
Saint James Infirmary Blues
. En effet, si
Louis Armstrong
avait enregistré un an plus tôt sa version très rythmée de ce futur standard, le succès n'avait pas été au rendez-vous. Lee enregistra alors
une version plus solennelle et descriptive
. Rappelez-vous le thème de la chanson traitant d'un parieur invétéré qui réfléchit à sa mort, au moment où il croise le corps de sa douce à l'infirmerie Saint James…
Le disque se vendit très bien à Kansas City et dans les environs. Malheureusement, à cause du fameux Jeudi noir et de la Grande Dépression débutante, le label Brunswick ne fit aucune promotion au niveau national… Ils préférèrent un an plus tard promouvoir la version de leur nouveau protégé, Cab (une version d'ailleurs calquée sur celle de Lee). Là, le succès fut immense.
---
On notera également le contrebassiste et chef d'orchestre Ivan ROLLE, originaire de Miami et surnommé "The Hi de Ho King of the South" !
Lire également le blog NO NOTES consacré aux multiples versions de St James Infirmary.