Cette anecdote, racontée dans son autobiographie, Cab la place en tête des exemples terribles de la ségrégation aux Etats-Unis. En
décembre 1945
, alors que Cab et son orchestre étaient en tournée au
Kansas
, ils croisèrent Lionel Hampton en concert dans le coin.
Cab était en compagnie du fils du politicien noir Felix Payne, Felix Jr. Cab et Felix Jr se rendirent donc au Playmore Ballroom et demandèrent deux tickets à la caisse. Mais l'ouvreur ne les laissa pas s'asseoir au milieu du public blanc. Ils se disputèrent et finirent par se battre. Comme l'ouvreur était un policier qui travaillait en dehors de son service (William Todd, 28 ans au moment des faits, pour ne rien vous cacher), il avait sur lui son revolver et s'en servit pour frapper Cab sur le crâne : "I got up and struck the shorter Negro (Callaway) [sic] and then drew my revolver. I hit him over the head several times," déclare Monsieur Todd.
La bagarre s'ensuivit et les deux compères noirs finirent en cellule : Cab fut accusé de troubler l'ordre public et Felix d'interférer avec un officier de police. Lionel Hampton interrompit son concert derechef. Bien embêtés, les organisateurs du spectacle furent obligés de rembourser le public qui dansa sur la musique de juke-box jusqu'à ce que les 1500 personnes présentes aient touché son argent, vers une heure et demi du matin. Dans son autobiographie, Lionel Hampton déclare d'ailleurs que cela fut une de ses rares batailles contre la discrimination ! Désormais tous ses concerts devraient pouvoir se dérouler devant un public mixte.
Black Dispatch, 5 janvier 1946 :
"Cab dégagé des charges contre lui dans la rixe de Kansas City"
L'histoire de l'altercation fit les gros titres des journaux comme en témoigne l'illustration ci-dessus. Felix Payne et Cab Calloway poursuivirent la ville de Kansa City et le théâtre devant les tribunaux. Cela coûta plus de 15 000 $ en frais de justice à Cab, sans qu'il récupère quoi que ce soit, si ce n'est son honneur défendu.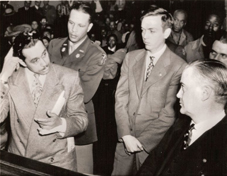 Cab montrant ses blessures au procès,
entouré de Felix Payne Jr, John J. Killiger (un ami) et Maurice O'Sullivan.

Retrouvez tous les détails de l'altercation dans cet article publié le 23 décembre 1945 dans Kansas City Star. (NDLR: Si vous ne parvenez pas à le lire, inscrivez-vous gratuitement au site du journal).