Voici l'un des cartoons de la Warner Bros banni dans les années 1960 par la censure pour ses stéréotypes racistes. Et pourtant, quel témoignage exceptionnel sur la vision du jazz noir des années trente
: Bill Robinson, Stepin Fetchit, Fats Waller, les Mills Brothers et
, naturellement,
Cab Calloway
. Tous y apparaissent caricaturés de la plus belle manière : le swing est respecté !

Produit par Leon Schlesinger pour la Vitaphone des Warner Bros, Clean Pastures est réalisé par Irving Freleng. Ce cartoon de plus de 8 minutes est largement inspiré du film à succès Green Pastures (1936) qui était entièrement interprété par des Noirs.

Le paradis y est représenté sous le nom de « Pair-O-Dice » (paire de dés). L'archange Gabriel ne parvient pas à faire grimper plus d'élus au Ciel depuis un moment : les chiffres sont mauvais Tandis que sur terre, à Harlem précisément, on s'éclate ! La solution soufflée par les anges (Fats, Cab, Stepin) est de convaincre par le swing de tout l'intérêt de monter à Pair-O-Dice.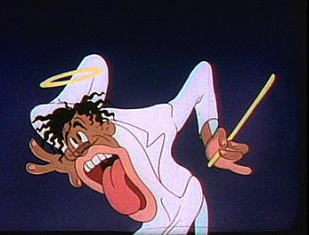 « De Boss » envoie son orchestre conduit par Cab Calloway. Il entonne alors
I Got Swing For Sale
à la Hi-de-Ho :
If your rhythm's been ttoo dreamy and you like your trumpet screamy
That's when you should call to see, 'cuz I've got Swing for sale.
If you think a waltz is horrid, and you like your rhythm torrid,
'Till it make you moop your head, I've got Swing for sale.
Les Mills Brothers reprennent :
Rhythm is what this country needs, for years and years, I've said it.
When you buy from, it's C.O.D., I sell but not for credit.
Solo de Louis Armstrong et reprise de Cab Calloway :
There's no tellin' what can happen, I can start your toes a tappin'.
I can set your fingers snappin', I've got Swing for sale.
Fats Waller joue sur son piano et toute la bande se réunissant entraîne la foule avec elle. Le paradis affiche complet, mais lorsque le diable en personne vient frapper à la porte, on lui trouve tout de même une petite place.
Dans sa critique du 12 juin 1937,
Boxoffice
considère
Clean Pastures
comme une
« satire intelligente »
. Les plus perspicaces constateront que les Noirs qui sont en enfer ont la peau plus foncée que ceux qui sont déjà au paradis.
Clean Pastures
subit les foudres de la censure, non seulement à cause des images de noirs, mais de la parodie de religion, véritable sacrilège. Car en fait, les Noirs vivent au paradis la même existence lamentable que sur terre qui consiste à jouer aux dés et danser toute la nuit !
Pour rédiger cette note, je me suis appuyé sur deux ouvrages essentiels :