A à la fin des années 30, les lois ségrégationnistes de Jim Crow étaient loin d'être abolies ! Et pourtant, malgré cela, les orchestres de jazz noirs partaient faire des tournées dans le Sud des Etats-Unis. Les trains étaient compartimentés pour les Blancs et les Noirs, les orchestres ne pouvaient être accueillis dans les mêmes hôtels que les Blancs, etc. C'est d'ailleurs pour cela que Cab avait son propre wagon Pullmann (nous consacrerons une note à ce sujet) ou son bus, qui servait à loger tout l'orchestre.
Autre exemple, lorsque l'orchestre jouait dans le Sud, il y avait un concert pour les Blancs puis un concert pour le public noir.

Mais en septembre 1939, lors d'un passage à Memphis, Tennessee, l'orchestre devait jouer à l'occasion d'une foire : pour les Noirs sur le champ puis pour les Blancs dans le pavillon.
Mais apparemment, les Blancs n'apprécièrent pas que l'orchestre joue d'abord pour les Noirs.
En effet, un petit Blanc qui distribuait les programmes sur le devant de la scène fut pris à partie par un autre un peu émêché qui lui reprochait de se déshonorer ainsi. Il déchira les programmes. Les roadies s'en mêlèrent et en quelques minutes, l'émeute commençait ! Le public et les gars de l'orchestre se joignirent à la bataille : coups de poings, jets de briques, de bouteille et coups de couteau s'en suivirent (certains des musiciens étaient toujours armés). Cab téléphona à la police qui rétorqua pour toute aide : « Débrouillez-vous comme vous pouvez ! » Cab appela alors l'hôtelier chez qui ils logeait qui revint avec le bus de l'orchestre. « Soyez prêts à tirer. » intima Calloway à ses gars. Ils grimpèrent tous dans le bus et s'enfuirent, poursuivis par les Blancs en voitures qui, au bout d'un moment s'arrêtèrent.

Ah, ces good ol' boys du Sud, on peut dire qu'ils avaient le sens de l'accueil !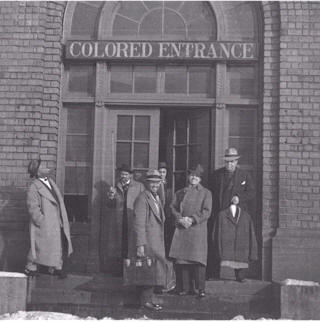 L'orchestre de Cab Calloway en garde d'Atlanta en 1940.
Photo de Milt Hinton, tirée de Over Time: The Jazz Photographs of Milt Hinton
(1991, éditions Pomegranate Art Books)
---
Anecdote tirée de l'album "Old Man Time" de Milt Hinton (1991) et retranscrite en français dans "Les fantômes de Harlem" de Hank O'Neal (1997, éditions Filipacchi).