Cab Calloway et Bert Parks, animateur de l'émission TV "Stop the Music"
(photo tirée du magazine "Our World" d'août 1952 titrant sur "How dead is Cab?")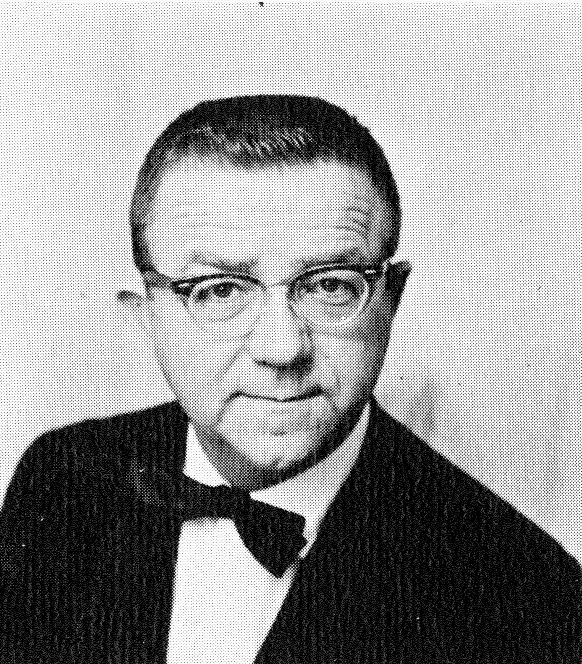 Dixon Gayer fut l'agent de Cab Calloway à la fin des années 1940. Autant vous dire que ce n'était pas la meilleure période pour le représenter ! Pourtant, il en garda un excellent souvenir qu'il partagea avec les lecteurs du
Los Angeles Times
au momentde la mort de Cab Calloway en 1994.
Avant d'être un homme politique plutôt à gauche mais farouchement anti-communiste, Dixon Gayer s'occupait de la publicité de Cab Calloway. "Publiciste", il était à la recherche de "coups" pour marquer les esprits. C'est ainsi qu'il forgea l'idée d'offrir Cab Calloway en prix lors d'un jeu télévisé intitulé "Stop the Music".
Il faut dire que Cab Calloway se remettait difficilement d'un engagement catastrophique à Philadelphie. La télévision, nouveau média déjà bien développé aux USA (nous ferons un jour ou l'autre un article dédié aux passages de Cab Calloway à la télévision. Il fut d'ailleurs l'un des premiers artistes afro-américains à être diffusé à la TV, en 1944 !) pouvait être une manière de faire connaître à nouveau Cab Calloway à un large public.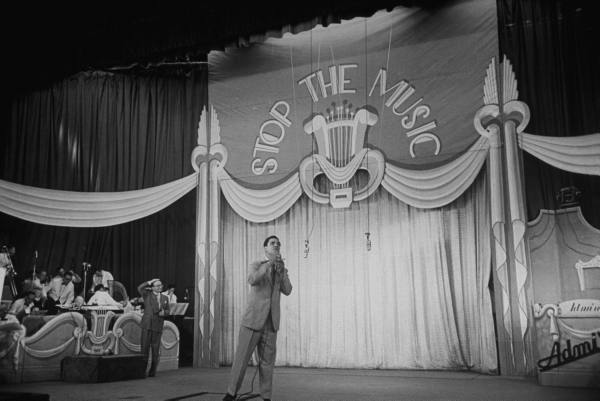 Bert Parks et l'orchestre d'Harry Salter se préparant pour l'émission
Stop the Music (photo : LIFE)
"Stop the music" (1949-1956) était à cette époque un des programmes les plus populaires à la télévision (il faut dire qu'il y avait alors moins de choix !) qui était animé par Bert Parks.
Le principe était simple : on diffusait de la musique jouée par l'orchestre de l'émission et les candidats au téléphone devaient identifier le titre de la chanson. Habituellement, les gagnants remportaient des cadeaux ou de l'argent. Cette fois, Gayer proposa e remporter Cab Calloway et son orchestre pour une soirée !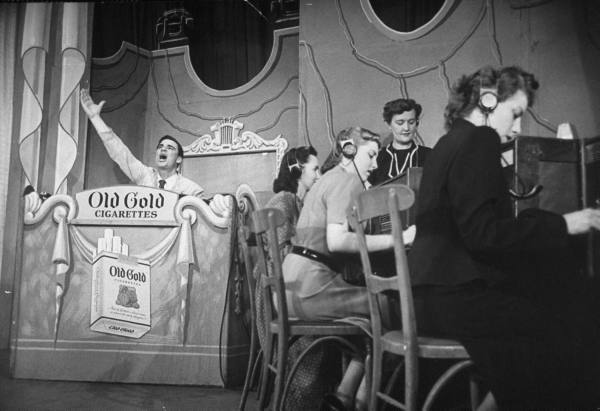 Bert Parks et le standard télphonique de l'émission
Stop the Music (photo : LIFE)
En contrepartie, Cab et son orchestre devaient rester à l'antenne tant que les candidats ne trouvaient pas la bonne réponse. L'idée enthousiasma les producteurs et Cab Calloway se laissa convaincre.
Durant 3 ou 4 semaines à la fin de 1948, l'orchestre de Cab remplaça celui d'Harry Salter habituellement en charge des pupitres.
Et finalement, Cab Calloway fut alors "offert en cadeau" à un couple de personnes âgées de Providence, Rhode Island. Après avoir accueilli l'orchestre dans leur humble demeure et les avoir écoutés assis sur des caisses, tout le monde partit pour une salle municipale où Cab, bon prince, donna un concert au bénéfice d'une œuvre locale.
Un mois plus tard, soit certainement en décembre 1948, Cab Calloway remonta sur la scène du fameux
Click Club
et connut
un vrai succès local, multipliant les réservations par 9 !
Du coup, la télévision locale en profita pour enregistrer une émission au Click Club pour la chaîne WPTZ. Cet essai fut concluant et le show diffusé le 31 décembre 1948.
---
Pour aller plus loin :
*In
Billboard
, 12 fevrier 1949, p.10